When Pictures Lie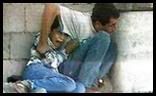 It was always a great horrible lie. The entire thing, from beginning to end, was a lie. I'm talking about that pitiful and pathetic video show put on by French television that was shown around the world that featured a father trying to shield his young son from a barrage of Israeli bullets. It never happened. At least, not in the way the Al Qaeda recruiting posters would have you believe.
When this report first aired and I saw it, I felt great sympathy for that father and child and it broke my heart on that poor father's behalf that he was unable to save his child's life. It truly broke my heart. It didn't matter if you were Moslem or Jew, Arab or American. The only story from those horrifying images was one of heartbreak.
But what would have been the reaction of millions of viewers around the world if they had been permitted to see ALL the video shot that day by that French TV crew? What if the world had seen the extra footage of the father and son actors being stage blocked and managed by the French crew prior to actual "shooting?" Most especially, where would the public outrage have been directed and should have been directed if the remaining video had been shown that clearly displayed the "dead" boy after being "shot," now sitting himself up, propped up on an elbow and with a playful attitude?
And should the whole story have been told... in the interest of journalistic integrity, of course. That part of the story about how a child who had died in a local hospital that day who'd had no part in any shooting was identified as the boy in the video even though that boy, still very much alive, looked nothing like the dead child in the hospital. Should that part of the story have been told?
Oh, that's right. Seeing as how the whole thing was a set-up from start to finish, it is rather silly to toss around terms like "journalistic integrity," isn't it?
It was all staged. They were actors performing for the camera. Nobody died. It's believable at this point that nobody even got shot.
And who benefitted from this disgusting manipulation? Well, as mentioned, Al Qaeda and other terrorist organizations used the fake video in their recruiting efforts which were so successful that a young woman strapped herself up with explosives and, fortunately, was stopped by Israeli soldiers before she could carry out her plan - to walk into a children's hospital and blow herself up so as to kill as many innocent babies as possible in revenge for the videotaped "killing" of the Palestinian boy.
And that was hardly the only repercussion of this piece of propaganda filth. The nation of Israel was condemned from every corner of this planet for this incident. It hardly mattered when the truth came out. The intifada was on.
So where does Israel go to get her reputation back? How do we put back the lives of innocent civilians who were slaughtered by terrorists who carried out their acts of murder in the name of a "murdered" child that still lived?
These are some of the questions posed by David Gelernter in his article, "When Pictures Lie." Go read it.